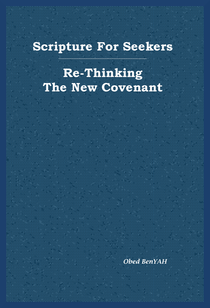 SCRIPTURE FOR SEEKERS
                 The S4S Edition
            THE NEW COVENANT                
           Verson 6.1 NOW AVAILABLE
                   Learn the difference between
                        Truth and "tradition"
             The Sixth Edition contains:
                  - NEW FORMAT
                  - new additions and corrections
                 - significant updates
                
This is available NOW in PDF format below.
A New Covenant text that is like no other!
It includes:
- A NEW ORDER to the books - Find out why in the Introduction.
- NEW insights into difficult passages (updated frequently).
- The Proper Names of God and The Messiah supplied
- The meanings of Biblical names is supplied.
- New comments and clarifications to the text
- printed right in the text so you don't have to hunt for them.
- Words and concepts explained for you - right in the text.
- Much of the "religious" and "doctrinal" terminology is replaced with more correct and meaningful language.
                            What you think you know is often not correct.
You'll discover what words really mean, not what someone told you they mean.
You can check out every word for yourself to verify this. (And you should.)
Some of the things revealed will change the way you understand Scripture forever.
For example:
- When did The New Covenant (Testament) actually take effect?
    - It was not at the birth of The Messiah.
    - It was not at the death of The Messiah.
    - It was not at the resurrection of The Messiah.
- How was Paul taught his concepts of faith?
- Why are they slightly different from any other "apostle" or "disciple"? 
- Do you know the real meaning of those two terms?
- Why is Galatians crucial to understanding Paul's message?
- Why were the teachings of YAHUSHUA ("Jesus", "Yeshua") during His earthly ministry
  slightly different from those of Paul?
- To whom does "The Law" actually apply?
These questions and many more are answered in this new text. Be sure to read the INTRODUCTION…..!

Here is the entire New Covenant in ONE PDF File:
Scripture For Seekers - S4S NC. pdf
Listed below are the 28 individual books in the series - in PDF format.
To download them to your computer "right click", then choose "Download Linked File" or "Save As".
 Save them to your computer/tablet/phone for easy reference. If the print is a bit small just increase the size of the text.
Book - INTRODUCTION NC.PDF 
Book 1 - JOHN (v.6.1).PDF
Book 2 - MATTHEW (v.6.1).PDF
Book 3 - MARK (v6.1).PDF
Book 4 - LUKE.PDF
Book 5 - ACTS.PDF
Book 6 - GALATIANS (v.6.1).PDF
Book 7 - ROMANS (v.6.1).PDF
Book 8 - HEBREWS (v.6.1).PDF
Book 9 - 1 CORINTHIANSv(v.6.1).PDF 
Book 10 - 2 CORINTHIANS (v. 6.1).PDF
Book 11 - EPHESIANS (v.6.1).PDF
Book 12 - PHILIPPIANS (v.6.1).PDF
Book 13 - COLOSSIANS (v.6.1).PDF
Book 14 - 1 THESSALONIANS (v.6.1).PDF
Book 15 - 2 THESSALONIANS (v.6.1).PDF
Book 16 - 1 TIMOTHY (v.6.1).PDF
Book 17 - 2 TIMOTHY (v. 6.1).PDF
Book 18 - TITUS (V.6.1).PDF
Book 19 - PHILEMON (v.6.1).PDF
Book 20 - JAMES (v.6.1).PDF
Book 21 - 1 PETER (v.6.1).PDF
Book 22 - 2 PETER (v.6.1).PDF
Book 23 - 1 JOHN (v. 6.1).PDF
Book 24 - 2 JOHN (v.6.1).PDF
Book 25 - 3 JOHN (v.6.1).PDF
Book 26 - JUDE (v.6.1).PDF
Book 27 - REVELATION (v.6.1).PDF
Be sure to tell your family and friends to get their own copies today!


NOTE:  These pages are a "work in progress". They're updated fairly often as new information or insights are provided that require a change in what's presented. Please check back regularly to see what may have changed since your last visit. Scripture verses used on the site are from Scripture For Seekers (see the Home Page). They're not always presented on these pages in exactly the same format as they occur in the text due to space considerations but the text is the same. Every book is now available in PDF format. Download or print your own copy today.  Or, go to www.accordancebible.com and obtain your own copy of Accordance. Then follow the instructions on the Home page to download an electronic version of Scripture for Seekers, S4S from The Accordance Exchange.
Personal use is free, but these are not to be used for any commercial purpose. Please contact the site owner if you have an interest in commercial usage.