NEW BOOK AVAILABLE NOW!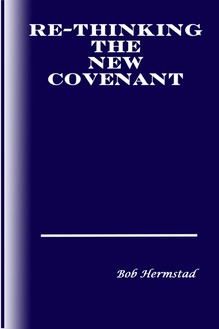 BRAND NEW!
NOTHING ELSE LIKE IT!
          An innovative NEW approach to Bible study!
          New easy to read format!
          This book shatters many traditional myths.
          Just published -  December, 2012
          Available NOW on-line in PDF format - FREE!
          Coming soon in eBook format.
          Available shortly in PRINT - as one book.
          This New Covenant study guide is like no other
          you've ever seen! 
Are you seeking The Truth - Biblical Truth?

This website is dedicated to that purpose.

It's the result of over 50 years of study and reflection.

Read

Re-Thinking The New Covenant

(RTNC).

Read the articles in the list at the right.

THINK about what you're reading - don't just "read" it.

Test whatever you read against Scripture.

Ask The Holy Spirit to teach you the TRUE meaning of every term.

Look up the definition of EVERY word, so you understand what each one means.

Understand that the CONTEXT is crucial to your understanding. If you take something out of context it changes the meaning in many cases. [Context means, what is being talked about, to whom, by whom, and under what circumstances.]

Do your own homework! Do NOT trust others to do it for you!


This is the AGE OF DECEPTION! 

Look up

2 Timothy 3:1-5

and read it!

Your English Bible "translation" is not as correct as you've been led to think it is. Exactly as it was in the days of The Messiah, "the traditions of men" have corrupted God's Word. The scribes, the Pharisees and the Sadducees had each perverted the Truth of YAHWEH and converted it into lies and deception.
Why should we think that today's religious leaders are any different?
Substitutions have been made for the personal name, YHWH (YAHWEH), thereby REMOVING God's name from your Bible. YAHWEH appears for the first time in Genesis 2.4 - in the Hebrew text.
The Messiah's name is NOT "Jesus"! He was a Hebrew child, not a Greek one. Think about it! His proper name is YAHUSHUA. In English we might call Him Joshua, although even that is a perversion of His name. Joshua comes from Yehowshua, which is a corruption of Yahu-shua. It means YAHWEH saves, or delivers, or rescues; or perhaps YAHWEH is salvation, deliverance, rescue.
The use of "lord" in English Scriptures has cause great confusion and massive
deception. Do you understand that ba'al means "lord"? The Messiah is not your "lord", He is your Master, your Sovereign.
These are only two of many perversions of the Biblical text. There are others. Words
are translated with terms that do not agree with their basic definitions. Religious terms
are used to create emotional responses. Some translated words are picked because
they support a particular theological position. Each of these poses a potential
problem.
No one can remove all the problems from the text. But efforts can be made to have
them read more accurately. That's what's involved in these efforts. However, I want to encourage you to DO YOUR OWN HOMEWORK! It's up to YOU to put forth a 
serious effort to understand The Word of YAHWEH. No one can ddo it for you - 
and have you receive the wondrous benefits that come from personal STUDY.
                  YAHWEH is not a man that He should lie. Numbers 23.19.
NOTE: Scripture verses with the following reference (RTNC) are from the NEW BOOK,  Re-Thinking The New Covenant. They are not always presented in the same format as they occur in the book due to space considerations, but the text is the same. The individual books are presented in PDF format. They are FREE!. Get your copies today, and send some, or send links to them, to everyone you know.
With the publication of Re-Thinking The New Covenant time has not yet permitted updating many of the Scripture references on this site. As time permits I intend to bring all in-site New Covenant references into conformity with the new text. Thanks for your patience while I work on that process.
The book has been completely updated as of January 15, 2013.